STAR CAST: Kartik Aryan, Kirti Sanon, Aparshakti Khurana, Vinay Pathak, Pankaj Tripathi, Atul Shrivastava, Alka Amin
DIRECTED BY: Laxman Utekar
What's Good: A romantic comedy on the concept of live in relationships that will make you laugh if you have decided not to make sense of any. The music of the movie is fantastic and the background score also scores well with the audience. The songs of the movie stays on your mind after the visualization of the same and you are tend to hum the tune of the song calling someone laung or elaichi.
What's Bad: The movie is based on live in relationships but the subject is not explored at all. It reflects pretentious acting, force jokes on the audience and the length is the most punishable part. The length of the movie drags for too long. Talented actors like Vinay Pathak, Aparshakti Khurrana, and especially Pankaj Tripathi are not used to their full potential and the screenplay don't do justice to their characters. Don't be confused for feeling this way for this movie made hints out the intention of making you feel so, also adding boredom.
GJ Verdict | Watch or Not: Don't watch and waste your money on it!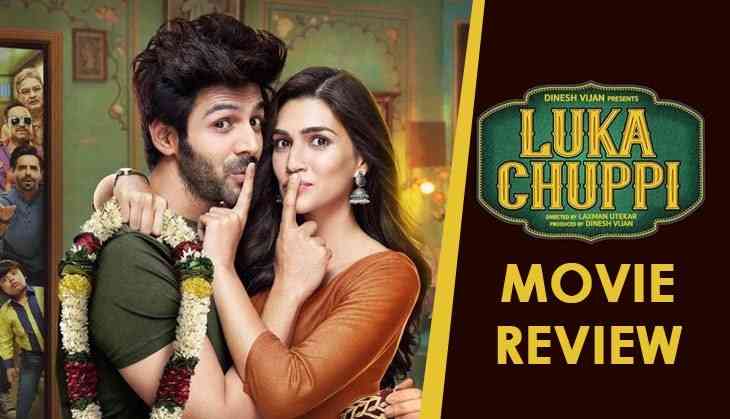 Lukka chuppi is supposed to a comedy film but it fails to make you laugh for the jokes in the first half treats you quite dumb and expect you to see the humorous side when there is none. The script by Rohan Shankar feels long-drawn-out and equally pretentious.
The only freshness in the comic approach is about Guddu's elder brother who is frustrated about being left behind in the marriage rat race. Kartik Aryan and Kirti sanon have acted decently and other talented actors are there in the film for reasons best known to them. The movie is based on the concept of live in relationships but most of the time the couple is being seen talking about the wedding.
Guddu (Kartik) is playing the character of the reporter and meets Rashmi (Kriti) during a shoot. They fall in love and Guddu wants to get married while Rashmi wants to have a live in relationship to give this relationship a trial. For unconvincing reasons, the couple make repeated attempts to sneak off and really get married and the exploration on the subject is lost.
Luka Chuppi will make you wonder what else you could have done instead of watching it for it is a sheer waste of time and money.