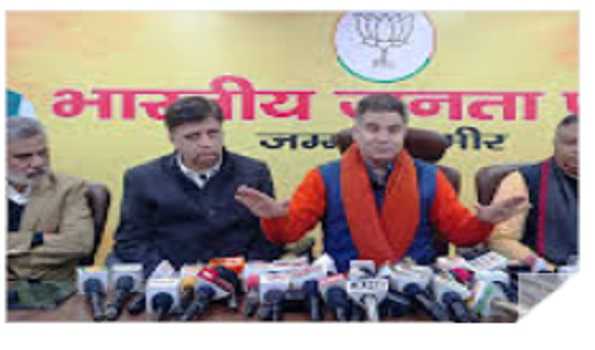 Jammu,  Jammu and Kashmir BJP chief Ravinder Raina on Thursday said that the 2023-24 Union Budget is a people-friendly, which will benefit all sections of society.
"The first General Budget of India's Amrit Kaal is a public welfare and pro poor Budget. It is Budget that will empower and uplift the lives of villagers, rural folks, Dalits, tribals, farmers, backward and oppressed classes, differently abled people and those who are economically backward. It is a blueprint for India's rapid growth and development which will ensure holistic progress of the country particularly rural development, agriculture development, labourers' welfare, infrastructure development, digital infrastructure development, and development of Northeast and hilly regions of our country", Raina told reporters here at a press conference.
He said, "This General Budget of the Bharatiya Janata Party government presented under the leadership and guidance of our Prime Minister Narendra Modi is the Budget that will promote social justice, equality and provide equal opportunities to all sections of our society. This Budget will make India a "Super Economic Power". This is a budget with emphasis on education of children, earning of the middle class and welfare of the elderly".
"We thank and congratulate our Prime Minister and Union Finance Minister Nirmala Sitharaman and her entire team for giving a Budget which touches the lives of every Indian, which takes care of welfare of all sections of our society", said Raina.
Raina was accompanied by former Minister Sat Sharma, BJP Chief Spokesperson Sunil Sethi and Spokesperson Abhinav Sharma.
Welcoming the Union Budget presented for the year 2023, Raina lauded the Modi government for taking care of every section of society.
"2023-24 Union Budget is a people friendly budget, which will benefit all sections of society. This budget expresses the very essence of BJP's ideology of Sabka Sath, Sabka Vikas, Sabka Vishwas", said Ravinder Raina.
"By ending the old tax regime in this Budget our Prime Minister has taken a historical step which is a big gift to the salaried class in the country. Now the salaried class will not have to give tax on income up to Rs 7 lakhs. Also, the tax slab has been reduced to Rs 5 lakhs. I thank the Prime Minister for taking this important decision for the middle class and salaried class", said Raina.
"The step to establish the National Digital Library for youth and children is a welcome step. In the next 3 years in 740 Eklavya Model schools 38,800 teachers and support staff will be appointed. I welcome this step", he added.
This budget has laid stress on the rural infrastructure development, with rural road connectivity. The budget also fulfils the aspirations of rural entrepreneurs, farmers and agriculturists. Raina said that tribal welfare has been specially kept in mind in this budget. In the General Budget the corpus for the PM Awas Yojana has also been increased to Rs 69,000 crores.
The Union budget focuses on development of 30 International Skill development institutes to promote youth entrepreneurship, while it also focuses on self-help groups.
He said that CAPEX budget has been increased to boost jobs and recruitment opportunities for youth. This will also boost private sector investment.
He said that the interests of small industries and small businesses are also taken care of.
Raina said, "157 new nursing colleges will be established in core locations A mission to eliminate sickle cell Anemia by 2047 will be launched entailing awareness creation & universal screening of 7 crore people in affected tribal areas".
He especially praised the Modi government for the defense budget getting a major boost. The General Budget has allocated Rs 2.40 lakh crore for the development and modernisation of the Indian railways. One of the major focuses of the General Budget 2023-24 is 'Green Growth'. The Narendra Modi Government has allocated Rs 19,700 crore for the National Hydrogen Mission.
"Mahila Samman Vikas Patra has been launched which gives women 7.5% interest on the savings of Rs 2 lakhs per year. Similarly the limit of keeping money in savings accounts for senior citizens has also been increased from Rs 4.5 lakhs to Rs 9 lakhs which is also highly appreciated. These schemes will prove to be major milestones towards the welfare of India's women and senior citizens" said Raina.
Raina said that while in present circumstances tough decisions are being taken by other countries, the Modi government has presented a development oriented pro-people budget. This budget will further the Nation in the path of development and economic strengthening.
"In a nutshell, this General Budget envisages India's growth and development 100 years post-Independence. It outlines the roadmap for growth, development and progress of all sections of our country particularly farmers, women, middle class and businesses.