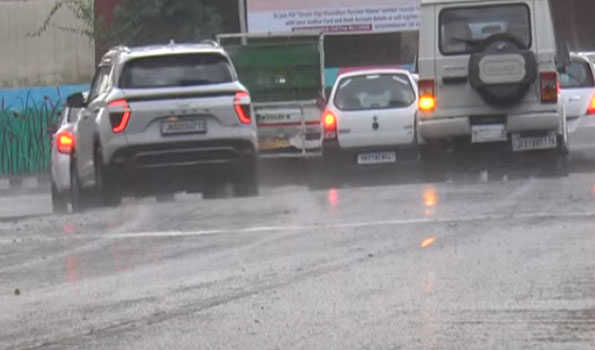 Jammu, Apr 18 (UNI) A spell of rain brought some respite from soaring temperature on Tuesday morning.
The Jammu and Kashmir meteorological department however, have forecast three-day bad weather across the Union Territory.
On Tuesday rains also lashed in Poonch, Rajori, Samba thus bringing relief from heat.
The changing weather due to Western Disturbance may affect the Jammu-Srinagar National Highway, said the Weatherman.
He said on Monday, the day temperature touched 39 degrees in Jammu while most parts of the UT remained cloudy.
"The day temperature in Jammu was 5.3 notches above normal at 38.7 and last night's minimum temperature was 25.9 degrees Celsius, which was 6 notches above normal," he added.
The day temperature in Banihal was 23.5, Batote 25.8, Katra 34.2 and Bhaderwah 26.3 degrees Celsius.
Leh recorded a minimum temperature of 2.0 degree Celsius Sunday night.
The Jammu-Srinagar highway may be affected due bad weather in the next few days, he said.
Meanwhile, Director, IMD, Jammu and Kashmir, Dr Sonam Lotus said intermittent Rain and snow at many places and thunderstorm very likely to continue.
On April 19, he said intermittent light to moderate rain and snowfall (over higher reaches) was very likely at many places and during this wet spell, thunderstorms with strong gusty wind reaching (20-30KMPH) and Hailstorm were also possible at some places of Jammu and Kashmir.
Intermittent light to moderate rain at isolated places and it will be mainly dry between April 22 to 25.