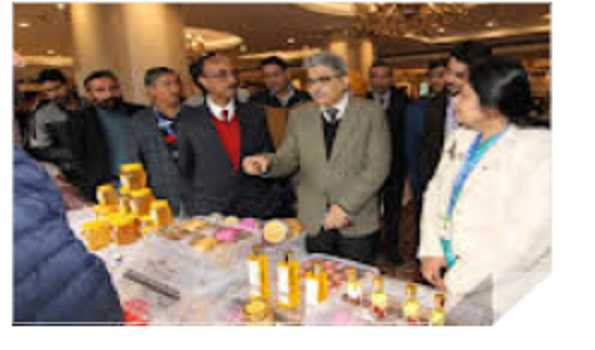 Jammu,  The NABARD has estimated a credit potential of Rs 34082 crore under priority sector for the Union Territory of Jammu and Kashmir for the year 2023-24.
The UT focus paper was launched here on Thursday in the Credit Seminar of NABARD event wherein Atal Dulloo, Additional Chief Secretary, Agriculture Production Department, UT of J&K was the chief guest.
Kamal P Patnaik, Regional Director, RBI also attended the seminar.
Ajay Kumar Sood, CGM, NABARD welcomed the participants and highlighted the contribution of NABARD in J&K.
During his address he highlighted on following areas for inclusive development of the Union Territory through various initiatives like Improving agriculture credit through credit planning, monitoring and coordination with various stakeholders. Promotion of FPOs and Farmers collectives, Exploiting potential of horticulture crops like Walnut, Saffron and apple through area expansion & productivity improvement, creation of a new eco system for Handloom and Handicraft products through OFPOs, Marketing Assistance and GI registration and Computerization of PACS.
Strengthening Agriculture and Rural Infrastructure viz. irrigation projects, rural roads/bridges, mandies.
Promoting Off farm sector and Strengthening of Dairy Collectives /FPO with value addition and Skill development of Rural youth Atal Dulloo, Additional Chief Secretary and Financial commissioner inaugurated the seminar.
Dulloo appreciated the approach adopted for finalization of UT focus paper.
He also highlighted the issues identified for the development of J&K economy and exhorted all the stakeholders to put in their joint efforts for realizing the credit potential made in the UT Focus Paper for 2023-24.
He lauded the 41 years of NABARD's contribution to the nation as well to the UT for facilitating flow of credit to agriculture and allied sectors, infrastructure financing and various development interventions for bringing prosperity in rural areas.
He also impressed upon the fact that public, administration and financial institutions should work in tandem to overcome the hurdles in the growth of UT.
Dulloo advised the bankers to trust the borrowers to enhance the agriculture credit flow to kick start the growth in agriculture through capital assistance.
Kamal P Patnaik, Regional Director, RBI, Jammu in his address stated that J&K has huge potential in agriculture and allied sectors. He exhorted for capacity building of all the stakeholders for better agricultural productivity.
During the seminar, potential linked credit estimates for various sub-sectors of priority sector were presented, which include Rs 18732 crore for agriculture (Rs 17312 crore in Farm credit, Rs 467 crore for Agriculture infrastructure, Rs 676 crore for Food and agro processing etc.) and Rs 11167 crore for MSME segment etc. for year 2023-24.
Various products of NABARD supported Farmer Producer Organizations (FPOs), Off-Farm Producer Organization (OFPO), SHGs and Financial Inclusion initiatives were also demonstrated at the venue.
Handloom and handicrafts from NABARD supported Rural Marts in Kashmir, Honey and Walnut from Ramban, Mushroom from Kathua, Mushqbudji rice from Anantnag, SHG products from Samba etc. were displayed at the stalls.
Financial initiatives of Airtel Payment bank and Indian Post payment bank were displayed.
Dulloo also released a booklet named "NABARD initiatives on Financial Inclusion in UT of J&K and Ladakh" on the occasion.
Sandeep Sharma, General Manager, NABARD, presented vote of thanks and assured that with support and cooperation of UT Govt. and all other stakeholders, NABARD will strive to achieve the targets highlighted by the Chief Guest.