Ek Ladki Ko Dekha Toh Aisa Laga is bollywood's first attempt to same gender romance and it is done with conviction, sensitivity, humour and in a very Bollywood style. The unique thing about the story of love without labels, is the treatment of the film and how the main stream actors played their parts while drawing the attention to the message that love is love without labels.
STAR CAST: Anil Kapoor, Sonam Kapoor, Rajkummar Rao, Juhi Chawla, Abhishek Duhan, Madhumalti Kapoor, Seema Pahwa, Brijendra Kala, Regina Cassandra
DIRECTED BY: Shelly Chopra Dhar
What's Good: The attempt to explore the unexplored cinema in mainstream, which otherwise was looked as an offbeat subject. Performances given by the star cast is quite a natural. The roles played whether big or small manages to leave an impression on your mind even when the movie finishes.
What's Bad: The attempt is undoubtedly bang on but the exploration on the subject could be more. The movie misses on bringing on the real emotions around the love story between Sweety (Sonam's character) and Regina Cassandra as the luminous love interest Kuhu.
GJ Verdict | Watch or Not: Watch! If you don't consider yourself judgmental about love and even if you are someone who judge quickly, it is time to understand the other side.
The movie ELKDTAL(Ek Ladki Ko Dekha Toh Aisa Laga) centers around a small town girl Sweety Chaudhary, who is not living her authentic self and has spent her life hiding her truth about being a lesbian, for she fears rejection. The movie is not just about same-gender love but about living with authenticity without the influence of societal injunctions. It is about living and loving as we choose, not allowing societal norms around age, gender, religion or anything else to suffocate us and hamper our personal or professional choices.
The title of the movie is based on the old movie song Ek Ladki Ko Dekha Toh Aisa Laga of film 1942 A Love Story. In this film Rajkumar plays role of a script writer, and when confesses his love to Sonam, comes to know of Sonam's reality and help her to come out in a conservative society that looks feelings of same sex love as a disease or a shameful thing. Since the strong screenplay is backed by an endearing cast, the movie manages to reach out to many besides the LGBTQ community. Playing it safe, one can see that the screenplay is more focused on those around the central couple than the couple themselves but it surely manages to deliver the message of unconventional love and acceptance.
The film cast has performed exceptionally well. Beeji (Madhumalti Kapoor), Veerji (Abhishek Duhan) and Papaji, Balbir (Anil Kapoor) bring in the typical required family drama. Anil Kapoor's performance as a father coming to terms with the sexuality is heartwarming. The adorable flirting of Anil Kapoor and Juhi Chawla adds on to the lightness and humour. Abhishek Duhan is impeccable as Sweety's brother.
Writer-director Shelly Chopra Dhar and co-writer Gazal Dhaliwal (who previously wrote Irrfan's 'Qarib Qarib Singlle') manage to provoke the thought of acceptance and talks about love being a universal feeling.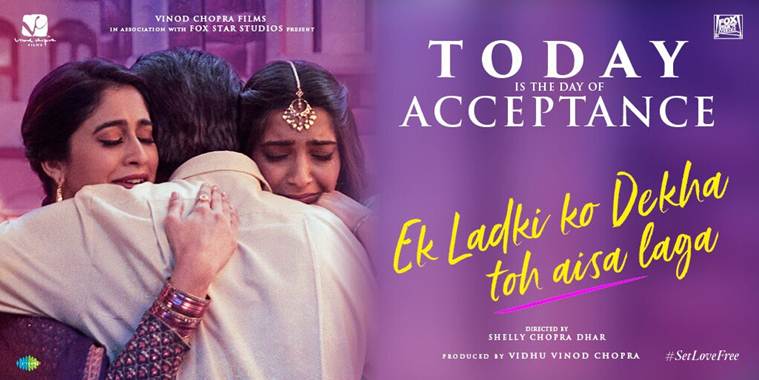 Ek Ladki Ko Dekha To Aisa Laga is fresh and very progressive film that talks about being yourself breaking stereotypes and manages to tell a modern and relevant story.