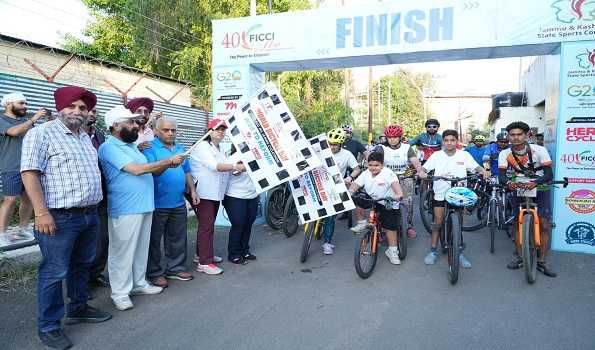 Jammu, To mark the World Cycling Day, FICCI FLO JKL in collaboration with J&K Sports Council on Saturday organized a 'Cyclothon 2023' here, spreading message of building a sustainable future by choosing cycling as a mode of transportation to reduce pollution and protect
our environment.
The cycle rally was flagged by Varuna Anand, Chairperson FICCI FLO JKL along with Aarti Chowdhary, Vice Chairperson FICCI FLO JKL in presence of Ashok Singh Jamwal, Divisional Sports Officer, J&K Sports Council, Ravinder Singh, President, Cycling Association of Jammu and Kashmir and Saurav Singh National Trade Marketing Manager, Hero Cycles from MA Stadium Jammu to Jammu Airport.
With over a hundred participants from all walks of life, the Cyclothon was a powerful symbol of collective effort to create a greener tomorrow.
The event witnessed riders covering MA Stadium to Jammu Airport stretch and finally reached back to the starting point i.e, MA Stadium. Along the entire stretch, the cyclists spread awareness about various social issues and motivated people to live a healthier life.
The event was powered by Munjal Auto and was officially sponsored by Hero Cycles and was supported by various cycling clubs comprising Jammu Hills Sports Club, Cycling Association J&K, Women Do Ride and Jammu Cyclists.
Speaking on the occasion, Varuna Anand, said that the event was organized with an objective to encourage citizens, especially the youth, to opt for cycling to bring about a positive environmental change.
"Choosing cycling as a mode of transportation is an effective way to build a sustainable future by reducing levels of air pollution and conserving energy, as well as promoting physical activity and improving overall health," she added.
During the event, Chairperson FICCI FLO JKL along with dignitaries distributed 15 cycles to the young girls of government schools hailing from Amb, Bhalwal and Gharota areas of Jammu outskirts.
Varuna Anand said that the bicycles provided by FICCI FLO JKL will help the girls with an easier, quicker and safer way to reach schools on time and save them from the trouble of walking long distances.
"This initiative is aimed to encourage the girls to stay in school and continue their education. The transportation facility will give the girls a much needed relief to pursue their dreams and transform their lives. The new transportation initiative will help in removing barriers to gender-based discrimination and ensure that this group of young girls will get sustainable education," she added.
Earlier, the morning was started with a warm up session by Shipra Aggarwal, Member FICCI FLO JKL.