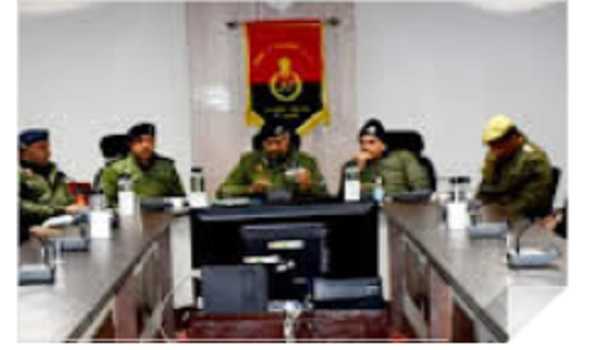 Jammu,  Seek cooperation in eradication of menace of drugs from the society, Deputy Inspector General of Police, Rajouri Poonch range, Dr. Haseeb Mughal on Thursday asked the chemists to ensure that no drugs and medicines are sold to minors without prescription of doctors.
Chairing a meeting of representatives of the Chemist Association of Rajouri, Dr Mughal, asked all the chemists to ensure that license and registration certificates are displayed at a prominent and properly visible place in their stores.
SSP Rajouri Mohammad Aslam, DySP Hqr Rajouri, Chanchal Singh, SO RPHQ Parvez Ahmed and SHO Rajouri Fareed Ahmed also attended the meeting.
The representatives of the Chemist Association participated in the discussion on the issues related to proper implementation of norms for working of chemist-drug stores across the district.
"Directions have also been issued for installation of CCTV cameras in all the chemist shops and drug stores and to keep recordings of CCTVs safe as per laid down specific procedures," the DIG Mughal said and also asked the chemists to ensure that no drugs, medicines are sold to minors in any case, only mentioned dosage and quantity of the medicine be provided to a prescription holder and no repeat medicine is given on same prescription.
He also mentioned about the move to ensure inspection of stores at regular periods by concerned authority, further asking chemists to cooperate with authorities in every possible manner.
Regarding maintenance of records of drugs sold, the top cop asked them to ensure that the daily sale register, prescription register are maintained properly as the same can be examined anytime by the surprise checking Police squads.
"Old and over dated prescriptions are not to be entertained at any cost," the DIG further said, asking chemists to accept prescriptions of only registered medical practitioners.
Mentioning more SOPs, he asked chemists to maintain a register for disposal of expired medicines. He also briefed them to follow only bank transactions for the ordering medicines from the stockists and suppliers. The
Police officer said that any chemist found involved in sale of adulterated or spurious drugs will be dealt firmly as per the law of land.
He asked chemists that besides business interests, they should share the social responsibility by following the rules governing the sale of medicines in earnest manners and sought their help in curbing the drug-addiction as a part of 'Nasha Mukt J&K' and Nasha Mukt Bharat.